The Desert Demons
Order The Desert Demons:
Note: signed bookplates are shipped separately from the hardcover books.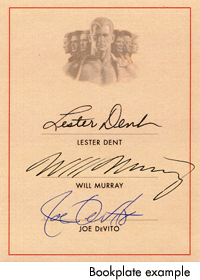 The skies over California explode with blood-red energies that resemble demon cyclones, but behave like intelligent life.
Nothing can stand in their terrible path. Men, machines, even buildings are devoured by the all-destroying Desert Demons. What are they? What do they want?
Far away in his Fortress of Solitude, Doc Savage receives the summons to danger. Radioing his small band of fighting specialists, the mighty bronze man orders them to rush to Los Angeles, prepared to combat the otherworldly menace.
But this time it's different. This time it's personal…
For one of their own has fallen victim to the unstoppable, unearthly things.
Read the Reviews
Praise for The Desert Demons
My hardcover arrived today; it is fabulous! Without a doubt or hesitation it is worth every single penny! I hope fans recognize what a super bargain this volume is and support this release in both hard and soft cover editions! From cover to cover both of these editions remind of times when publishers really took pride in their books; you folks obviously do and it shows! The added features in the hardcover are terrific! I am looking forward to the signed bookplate to make this package complete. As always, I hope y'all know just how much Doc fans appreciate these new adventures! Will, you have really outdone yourself with this one; great fun! Wishing you all the very best!
—Link Hullar
The Desert Demons resurrects Doc Savage and his friends in a way Lester Dent would be proud of. Will Murray, who fleshes out this novel from some previously unpublished notes and material written by Dent in the mid-thirties, seems at times to be channeling Dent in an almost supernatural way. Certainly The Desert Demons is a novel every fan of Doc Savage will not just enjoy, but thrill to. This one, certainly did.
—Gerald W. Page,
editor The Years' Best Horror Stories
This took me back to my youth, when I spent summer afternoons avidly reading musty back issues of Doc Savage Magazine. It's all here—the fantastic other-worldly menace, Doc's crew of five, his cousin Pat, and the pre-World War 2 world of the '30s. What more could I ask?
—Ted White,
author of The Great Gold Steal
A "lost" novel of the Man of Bronze, conceived in the 1930s by the great Kenneth Robeson and written by his brilliant successor, famed adventure novelist Will Murray—the real Doc Savage lives again!
—Richard Kyle,
editor, Argosy
---
Chapter I: Red Demons
The first "demon" appeared in the Mojave Desert.
Out of a clear, sun-heated sky, it materialized, a cloud such as man had never seen before. Red as blood, tumultuous, boiling, coming from none knew where, and carrying an awful and mysterious death.
It chanced that a newsreel camera crew was on hand to record the unearthly phenomenon. Coincidence may or may not have played a significant role in this. The camera men had driven out into the desert to shoot the activities of a Hopi medicine man named Chief Crazy Thunder.
Crazy Thunder was not actually a chief. He wasn't, technically, a medicine man either.
What he was, was an enterprising young buck who had devised an original idea to grab himself a slice of fame, and incidentally, make for himself a respectable pile of dough.
The State of California had been sweltering under a prolonged drought. The orange crop was wilting. Wine grapes withered on the vine. Reservoirs shrank from their banks. Nothing could be done. It was terrible.
Reading of this, Crazy Thunder traveled from his native Arizona tricked out in his Hopi bead costume and medicine rattle with the idea of producing rain. Among American Indians, the Hopi are famed for their ceremonial rain dance. Crazy Thunder was the nephew of a genuine Hopi rain dancer, and he had practiced for much of his young life the downpour-summoning saltations of his copper-colored ancestors.
That he had never generated any actual rain, only fitful heat lightning and the odd grumble of thunder, gave Crazy Thunder the latter half of his name. That he was addicted to impulsive ideas provided the first part.
And so after talking a newsreel camera crew into conveying him out into the parched Mojave, he stood among the spiny Yucca cactus and twisted Joshua trees in his feathers and his beads and prepared to call down a meteorological miracle.
Instead, Crazy Thunder called down something else entirely.
As the camera man started filming, the young Hopi went into his routine. He began by kneading the hot sand with his soft moccasins. He let out a long, low kiyoodle, mixing mournful coyote with the high howl of a wolf. Turning slowly, Crazy Thunder commenced dancing in a circle.
He carried a carved wooden slat affixed to a length of rawhide thong, which was called a roar devil. Whirling the thing around produced a low moaning sound that gave the roar devil its name. At an appropriate moment, Crazy Thunder set his bull roarer to spinning.
It was quite a performance. The camera crew ate it up. They called out encouragement. If the deluge came, they cried, he would be known from the Pacific to the Atlantic Ocean as the savior of California.
Young Crazy Thunder gave it everything he had. He whooped his throat raw. He danced blisters into the soles of his feet. Visions of gold dollars danced before his eyes.
So engrossed did he become that Crazy Thunder failed to take note of what began transpiring only a few yards away.
The first he knew of it was a vague silence. The camera crew had stopped egging him on. He failed to realize that they had trained their camera in another direction entirely, recording something they had spied in the sky. Something that caused them to grow strangely quiet.
The second unexpected development came when he felt something cold and biting touch the back of his hand.
Precipitation had started falling from the sky. Rain is rare in the high desert. On a hot August day, it is virtually unheard of. Still, the precipitation fell.
Quite naturally, Chief Crazy Thunder stared upward. His square copper features elongated in amazement. For the sky above was a burning brass bowl of emptiness, with nothing but a fading red haze in it. Yet there were things dancing about him. They seemed unreal in the thin, hot air of the desert. It was all very strange.
Strange too was the sound that beat upon the air. It might have been the low howl a cyclone makes, except that the noise had a frenzied, metallic quality. It seemed to be coming from the direction of the camera crew.
They were still there, standing in the open bed of their pickup truck. They were not moving. The truck, which had been tan, was now a different color. It was a spectral bleached-out white. So were the three camera men. And they were not moving.
The sun was in Crazy Thunder's dark eyes, so he mistook the weird phenomenon for a trick of the light. Flying about the tableau were particles of something. Not rain. Rain fell in drops and streams. This was different.
At first, he thought it was sand. Sand caught up in a whirlwind which denizens of the desert call a "dust devil." But there was no wind, and thus nothing to cause the particles of sand to whirl about as they did.
One of the fugitive particles touched Crazy Thunder's medicine rattle. It resembled a black cinder. But when it touched the rattle, the rattle turned bitterly cold to the touch.
As if stung by a scorpion, Crazy Thunder dropped the rattle. It shattered on the sand. The sound of its shattering was not normal. It was soft, not hard. He looked down. The rattle lay in pieces like a broken bone. It had not been bone-white before. Now it was. Very.
Another cinder touched his moccasin. He jumped and let out a pained shout, then peered at his foot. It was suddenly bare. No sign of the footgear was visible anywhere. Crazy Thunder began to run, and more black precipitation descended upon the spot he had vacated.
All the while, that awful metallic howling was winding down like a dying thing. Eventually, it did die, leaving only a strange absence of sound far more eerie than ordinary silence.
Now, although Crazy Thunder had lived all of his life in deserts, it did not follow that the Hopi youth had never seen snow. He had. And he had felt its cold bite upon his hands. The feel of this coal-black matter was similar.
So he made a natural mistake.
"Hail!" grunted Crazy Thunder, using the English word, for his branch of the Hopi tongue held no similar appellation. He slackened his speed, for he did not consider it especially remarkable that black hail should fall; he had been quite amazed the few times he had seen ordinary white snow, too.
The newspapers were amazed, too. Not about the black hail. They did not hear about that. The thing that amazed and puzzled the newspapers was the mystery of what could have happened to Cy Dix and his two camera men, who had driven a tan pickup truck out into the Mojave Desert and vanished completely.
Cy Dix was a brilliant young director, a fellow whose artistic brain was largely responsible for the present state of efficiency of a rising Hollywood studio called Flash Pictures. His two camera men were scarcely less capable.
All three had vanished in the desert, and no one knew how, why or when. Chief Crazy Thunder did not know. He had only seen the weird dust devil that carried black hail and left everything it touched the color of sun-bleached bone.
After a suitable interval, Crazy Thunder sneaked back to the pickup trick to reclaim his fallen bull roarer. The truck was still there. And it was definitely white. Only the windshield and side window glass were untouched by the deathly pallor.
Of the three men, there was no sign.
The sand thereabouts was sprinkled with fine pale powder that reminded him of the color of the pickup truck and its missing occupants. Powder was scattering from wind-blown patches in the bed of the pickup truck. They corresponded to the approximate locations of the vanished truck crew.
The young Hopi shuddered when he made the connection.
Chief Crazy Thunder also noticed that two spindly Joshua trees were no longer rooted where they had formerly stood. Something had carried them away, too. He did not dwell on what that might be. But he remembered that they too had turned white amid the swirling black dust devil.
It was a long trek back to civilization. There was a passenger train leaving for Arizona he planned to board.
Henceforth Chief Crazy Thunder intended to leave the Hopi rain dance to persons older and wiser than he. For the young Hopi had become convinced that he had inadvertently called down an angry desert demon.
Some thousands of persons on a Malibu beach saw the next manifestation of mad meteorological phenomenon. It appeared as a cloud near other clouds. It was a hideous spot that might have been a drop of red blood in the sky. Many newspapers commented on that similarity the next day. The similarity was to assume frightful importance later.
A thin, middle-aged man in a one-piece bathing suit was first to see an airplane flying toward the cloud of crimson. Possibly the thin man noticed the plane because he was interested in the sky. He was Dr. Paul Zimmer, a noted astronomer.
Dr. Zimmer and the other thousands on the beach saw the high-flying plane nose toward the red pall in the sky, as if those in the ship were curious. They all saw what happened next.
The plane simply vanished in the blood-red cloud. Incredible as it seemed, that was what occurred. One moment the ship was arching through the sunlight; the next, it was enveloped. The cloud darkened, becoming even more like blood. Its darkening took on a more ominous hue, for very soon it turned black. It began to fall apart. And when the coal-black cloud dispersed, which it soon did, as if melting in the heat, there was no trace of the plane.
Everyone distinctly heard the sound of the plane motor cease when the scarlet cloud enveloped it.
Every newspaper in the United States carried similar headlines:
RED CLOUD DEVOURS PLANE
That was typical of the scareheads. After one imaginative eye-witness described the sun-burnished cloud as possessing a coppery metallic tinge, a tabloid paper coined the term "Copper Cloud" and the appellation soon stuck.
Professor Clarence Threlkeld Clement had been a passenger on the plane which met such a mysterious fate in the crimson cloud. Professor Clement held the chair of advanced meteorology in one of California's most erudite universities.
The following day, Dr. Paul Zimmer went for a walk along the beach, and a beachcomber saw a weird red cloud descend upon Zimmer. It appeared to gobble him up, turning a deeper red, and then abruptly black, as if an unfathomable process of digestion were taking place. At least, the beachcomber claimed it did, but there was some doubt, because that particular beachcomber was a notorious imbiber of spirits.
But Dr. Paul Zimmer disappeared completely. This made headlines, for Dr. Zimmer was in charge of the new astronomical observatory in Palomar. He was also, investigation revealed, a friend and colleague of the missing meteorologist, Clarence Threlkeld Clement. The papers played up this connection, but they could not otherwise make anything of it.
Then a search party seeking Cy Dix and his two assistants in the Mojave Desert came upon Chief Crazy Thunder, the discouraged Hopi rain dancer, still trudging his way out of the high desert. Crazy Thunder told them about the black hail.
The search party found the white pickup truck that had been tan. But no trace of Cy Dix and his assistants. There was a lot of sand piled in the bed of the truck. It was not the color of sand however; it more closely resembled salt.
When they attempted to climb aboard, the truck literally fell apart. It was as if some chemical action had rendered the steel and rubber as brittle as crystal. The newsreel camera also crumbled to the touch. Oddly, its contents had survived. The film can was rushed to the studios of Flash Pictures, and developed.
It showed the beginning of Crazy Thunder's rain dance. Then the camera suddenly swiveled upward to record a strange cloud. The film was black and white, so the color of the cloud did not register. A film expert, however, concluded that the grayish tone probably signified red.
At the point where the cloud filled the frame, the mad whirling thing turned black and the camera had ceased to operate.
Just before that unsettling transformation, the whirling of cloud seemed to suggest the gathering features of a demon out of the lower regions. The impression of a demonic visage might have been an optical illusion. Or it might not have. People often saw imaginary faces in ordinary clouds. But this particular countenance, animated with a ferocity resembling hatred, was hard to dismiss as a product of mere imagination.
That was good for newspaper headlines all over the nation, too. They put Chief Crazy Thunder in the newsreels. He cut a picturesque figure with his brilliant Hopi regalia and handsome copper features. It made good copy.
Flash Pictures offered him a part in a Western movie about to be filmed. His contract strictly forbade him from performing any more rain dances. The studio did not take seriously his belief that he had called down a demon of the desert, but the producers thought it good advance publicity to let the general public know about the clause.
Four more persons vanished that week. All were big shots. One was a daredevil pilot, another the head of a Hollywood studio, the third an oil man, and the fourth a noted investment banker who who had recently retired. Two of the deaths were marked by sight of a weird crimson cloud. All disappeared without a trace. Neither were traces left of the conveyances in which they were traveling—in one case it was an airplane; in three instances it was automobiles.
On the following Monday, Doris Duff vanished. The newspapers remarked on the fact that Doris Duff was the first victim who seemed to amount to nothing in particular. The newspapers were wrong. Doris Duff was the biggest star of all, as far as future developments were concerned.
Doris Duff had registered at a Palm Springs dude ranch, giving New York City as her home. She claimed to operate a health spa in Manhattan. It developed that no one named Doris Duff owned a health spa in that city. In fact, no record of a Doris Duff could be found anywhere.
This was a mysterious point about Doris Duff for which the journalists could not account. Since it was a Palm Springs resort from which she vanished, a rumor spread that Doris Duff was the pseudonym of a famous Hollywood actress who was vacationing incognito. The fact that one of filmland's most popular matinee idols bore the last name of Duff lent some credence to this theory.
This rumor did not pan out either.
After Doris Duff vanished, and someone reported seeing a blood-red dust devil descend upon the part of the Mojave Desert where she had gone prospecting, things began to happen in earnest.
Newspapers claimed they could see no connection between the disappearances. They were a bit nearsighted. There was a connection, and its significance was so bizarre that no doubt some of the journals would have hesitated to print it.